Home
Food Safety for Handlers

California RBS Training
California Food Safety for Handlers

RBS Training Information

Receive an official PSCC Food Handler Wallet Card by mail for food handlers in California!

No Extra Charge!
There is no additional cost to receive your food safety / food handler's wallet card!
Generate a printable food safety certificate for California upon course completion
Receive your PSCC food handler's permit / wallet card for California in the mail within 15 days.
The Food Safety for Handlers Course will teach you all you need to know for safely handling, preparing and serving food. You will learn all the key techniques for food safety, such as proper storage, knowledge of food based illnesses and correct cooking procedures.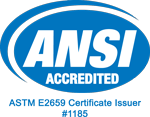 Do I need a Food Handler Card for California?
The
California Food Handler Card law
requires employees who work with food to take training for food safety to reduce potential for foodborne illness. The Food Safety for Handlers Course covers the required information to obtain a food safety card. Rserving, Professional Server Certification Corporation, is an ANSI Accredited Program Certificate Issuer - Accreditation Number 1185.
Am I required to have a Food Handler Card for California?
If you work at a restaurant in California, and your job duties include the preparation, storage or service of food in a food facility and need a food handler card, this is the course for you.
Employees required to have a Food Handler Card in California:
wait staff / servers
chefs
head cooks
cooks
bussers
bartenders
host/hostesses that handle food
beverage pourers (including alcoholic beverage pourers)
supervisory personnel, such as the general manager or managers
Can I start working before I have a Food Handler Card?
Food handlers must have a California Food Handler Card 30 days from the date of hire.
How long does the course take?
The course typically takes about 2 hours to complete.
Click the
add to cart
button below and proceed to the checkout to get signed up. You will be emailed a username/password to login and begin.
---
Food Safety for Handlers

California RBS Training is also available through the following offer: